Eider know, but this quacks me up...
December 8, 2013
Duck! Here comes quack Dr Duckema to confront baby cutters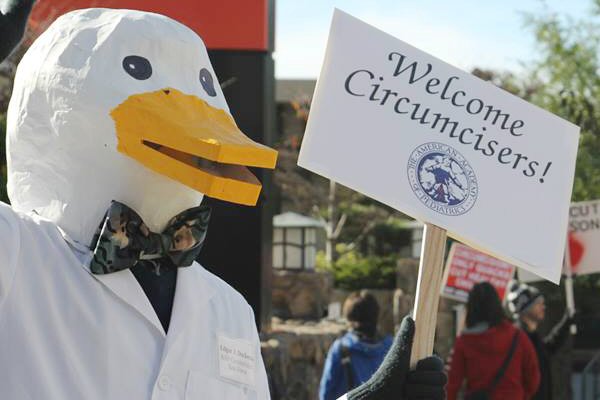 Click for video
Something eggstraordinary went, um, down at the Hotel Kabuki in San Francisco yesterday. A strange ducklike figure was greeting members of California Chapter 1 of the American Academy of Pediatrics as they arrived for a meeting at the hotel.
He was "Doctor Edgar J. Duckema", reportedly a circumcision enthusiast and American Academy of Pediatrics Circumcision Task Force member, quacking and holding a sign saying "Welcome Circumcisers!"
Others, members of the Bay Area Intactivists, carried signs saying "Circumcision Anguish" and "Circumcision? Only Quacks Cut Healthy Children".
Only one question: where should the doctor send his bill?