June 25, 2012
DOC's Mad Nurse, Scared Cock, Wow Pride Crowd
Doctors Opposing Circumcision performed street theatre in the Seattle Pride parade, a nurse with huge shears chasing a terrified intact penis, who appealed to the crowd for help.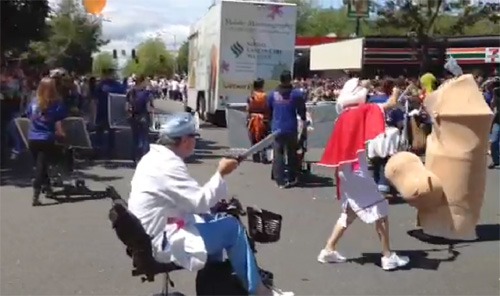 To view video
Mothers in matching blue tee-shirts pushed strollers with their intact boys carrying signs saying 'His Body, His Choice", "Intact Genitals are a Human Right" and "Circumcision is Human Rights Abuse".
The crowd reportedly applauded often, and one young child on the parade route asked to hug the endangered penis (performed by a woman).
Afterwards they staffed a foreskin restoration booth that was well-attended. Visitors included an intact Russian Jew, whose story of his escape from circumcision was recorded on film.