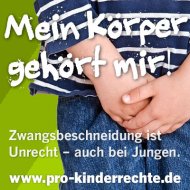 My body belongs to me!
Forced circumcision is
wrong - for boys too
Reuters
October 11, 2012
German cabinet approves bill allowing circumcision of boys
By Alexandra Hudson
BERLIN (Reuters) - Germany's cabinet approved a draft law on Wednesday protecting the right to circumcise infant boys, which it says will end months of legal uncertainty after a local court banned the practice, causing outrage among Muslims and Jews.
The June ruling by a Cologne district court that circumcision constitutes "bodily harm" sparked an emotional national debate about religious freedom and the procedure itself.
...
Parliament must still approve the bill for it to become law
.
The speed with which national lawmakers agreed to draw up a new law underscored sensitivity to charges of intolerance in a country haunted by its Nazi past.
...
The bill states that the operation should take place with the most effective pain relief possible and only if parents have been fully informed about the nature of the procedure.
It makes no mention of religious motivations for circumcision
.
The court ban had applied only to the Cologne region but doctors across the country refused to carry out operations because of what they saw as a risk of legal action.
...
About 120,000 Jews are registered as living in Germany along with around 4 million Muslims, many of them from Turkey.
The Cologne court, ruling in the case of a Muslim boy who suffered bleeding
[requiring surgery under general anaesthetic and 10 days in hospital]
after circumcision, said the practice inflicted bodily harm and should not be carried out on young boys, although it could be performed on older males with their consent.
Anticipating the government bill, Berlin city authorities announced last month that parents were free to have their sons circumcised without fear of prosecution and the operations resumed in the German capital.
---
Deutche Welle
October 10, 2012
... The children's charity Deutsche Kinderhilfe was among the staunchest critics of the decision, calling it a "quick-fire" political solution that favored parents at the expense of their children's rights.
"While a smack is forbidden, now an irreversible procedure with the risk of considerable side-effects and pain should be allowed for almost any reason - such a decree in German law would enduringly weaken children's rights," the chairman of the charity, Georg Ehrmann, said in a press release, saying the move sent Germany back decades in terms of protecting the youn